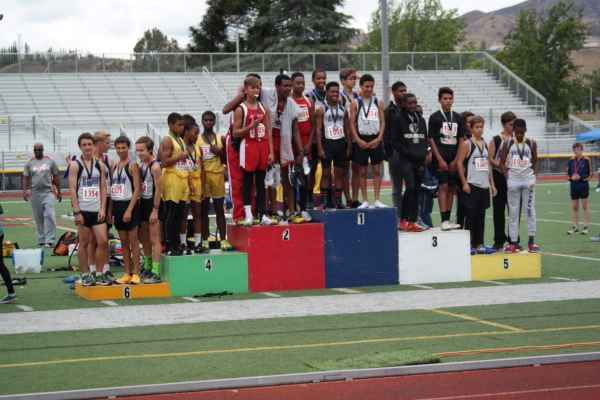 Administration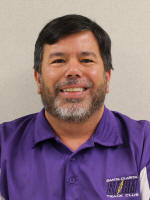 Alan Bingham – President Santa Clarita Track Club
Alan is the founder and president of the Santa Clarita Track Club, Alan has been involved with track and field for 31 years when his children first started, now his grandchildren are on the team. He has been timing track meets back as far as he can remember. As the founder of Santa Clarita Track Club 13 years ago he wanted to start a program that was specifically for Track & Field athletes. As president of the corporation, his primary duties and responsibilities are to manage the club's business.
Alan still oversees the timing of the Santa Clarita Track Club events, from track meets, cross country meets, or SOAR's 5k/10K run Mardi Gras Madness.
Santa Clarita Track Club has 3 divisions, Track & Field, Cross Country, and SOAR (Students off and Running).
Santa Clarita Track Club has approximately 575 athletes that it serves every year.
Alan served in 2011 – 2013 as commissioner of the Valley Youth Conference Track & Field and is currently on the VYC Executive Board of Directors as CFO.
Alan has ran 9 marathons and 3 half marathons. When he's not at a Storm event, he's out on his Harley Davidson Motorcycle touring the back roads with his wife Elaine.
Alan has 5 adult children and 14 grandchildren. Alan has been married to Elaine Bingham for 41 years.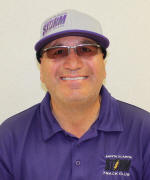 Mark Cruz – Director, Track & Field
Mark is beginning his 7th year with Storm Track Club as director and coach. He enjoys introducing kids to the fundamentals of Track & Field with a philosophy of strong work ethic, self discipline and goal setting. These skill sets are fun, competitive and social, while developing their self confidence and knowledge to the importance of a health and fitness program. His goal is that athletes apply this philosophy to all aspects of their everyday life, as well as develop a higher standard of achievement in other sports, academics and life.
During his college years, Mark was a member of The Santa Monica Track Club, well known for producing countless Olympic athletes and setting numerous World and National records. In his 10 years with SMTC, he competed in events from 1500 meters to Marathons.
Mark and his family truly enjoy being part of the Storm Track Club program. His wife Lillian is the team Candy Mom, son Cameron is a Youth athlete and daughter Madison is a Midget athlete. In 2013, Madison won a National Cross Country title with the Sub-Bantam division team for the Valley United Striders.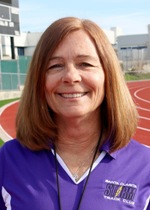 Elaine Bingham – Track & Field Head Coach
Coach Bingham is entering her ninth year of coaching with Storm. She has been coaching youth track and field for over 30 years. She started coaching her 4 kids in another program and was instrumental in creating the Canyon Country team in 1994. She has served in the Valley Youth Conference as League President and Commissioner of Track and Field. She has also coached at the high school level at Canyon High School. Coach Bingham has attended countless coaching clinics to continue to learn and teach the sport. She is starting her second generation coaching with her grandkids.
Coach Bingham has completed 19 marathon and countless other races, she began running in 1994 a gift that was giving to her by her children's interest in Track & Cross Country. As a child Elaine had Polio and was told she would never run. She is very thankful they were wrong.
When she is not coaching Track she spends most of her time with her family, 5 adult children, and 14 grand children. She enjoys Duke Basketball! and riding on the back of her Harley Davidson Motorcycle with her husband of 40 years Alan. They have toured most of the southwest.
Coaching Track & Field is her passion and she enjoys the success of every member on the Storm Team.
---
Sprint Age Group Coaches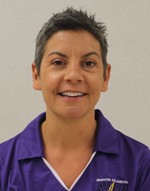 Rocky Turner – Youth & Intermediate Head Coach
This will be Coach Turners sixth year coaching for Storm. She has coached at the Midget and Youth Levels. This year, she will return to as the Youth and Intermediate head coach. She has also coached at the high school level at her alma mater, Notre Dame High School, for three years before she started her family. She is currently at Saugus High School assisting as a Sprint Coach.
At ND she competed in the 4x100m and 4x400m relays, the 200m and the 400m, where she broke and held the school 400m record for over a decade. She continued to run for two years at the college level until her knees gave out. In 2013, Coach Turner volunteered at Saugus High School as the Freshman Football conditioning coach and returned in 2014 as the Conditioning Coach for the Junior Varsity Team. She has helped coach dozens of children the past two years to reach their goal and become All American Athletes at the National Junior Olympics. She is currently a Certified USA Track and Field Level Two Coach and a Certified Interscholastic Coach for NFHS.
When Coach Turner is not chasing down your children on the track, she is most likely cooking, driving, or cleaning up after her six children and amazing husband, Jeff. In her "spare" time, Coach Turner runs a non-profit called Mothers Fighting For Others which gives her the opportunity to fly to Kenya a few times a year. She takes this time to take care of her other 50+ children at Saint Monica Children's Home for Girls.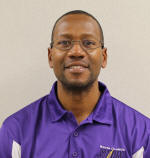 Byron Davis – Youth & Intermediate Assistant Coach
Former American record holder in swimming, Ironman, turned career coach, Byron is the founder of the epic life project and absolutely loves helping people get unstuck and transform their passions into lives and careers they love. He does this through online resources, group coaching boot camps, & private live, one-on-one Life Plan Immersions called CALIBRATE!
Byron is very excited to be on the coaching team this year. He will be an assistant to Rocky, coaching the youth sprinters.
Byron authored the book Re:Purposed (The art of turning setbacks into success through letting your obstacles lead the way), and created the 8 part peak performance audio program Unleash The Unstoppable YOU!
He enjoys speaking at conferences and helps audiences reverse limiting beliefs on the spot and teaches them to use the simple power of personal narratives to quickly establish new habits and activate their God gifted potential, on call.
Byron received his BA from UCLA and Masters from Biola University.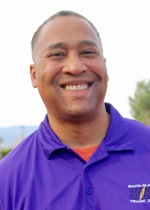 Craig Burns – Youth & Intermediate Assistant Coach
Coach Burns is starting his second year coach. He will be assisting Coach Turner with the Youth & Intermediate age group. He grew up in Sacramento and received athletic scholarships in Baseball and football. He received his BA degree from California State University at Northridge, where he also played baseball. Coach Burns has 2 boys in the Storm program and has enjoyed watching them run for the past 4 years.
Coach Burns enjoys coaching youth basketball for Santa Clarita Parks & Rec, but wishes that his boys liked BASEBALL!!! In his spare time he likes to grill and spend time with his amazing family.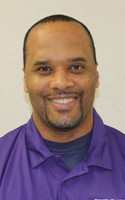 Jamal Thompson – Youth & Intermediate Assistant Coach
This will be Coach Thompson's sixth year coaching for Storm.  Jamal has coached at every age level during his time with Storm Track Club.  This year will be his first year at the youth level where he will assist long-time coach Rocky Turner.
Jamal's primary experience with athletics is as an NCAA Division 1 volleyball player for CSUN where he competed for the only team CSUN has ever placed in a national championship game.  He was lured back into athletics when his children expressed an interest in competing in Track and Field.
Currently Jamal is Managing Director at the independent wealth management firm, Domari Wealth Management.  In his spare time he enjoys spending time with his wife and 4 children.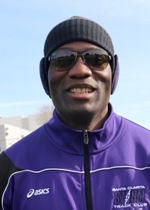 Terrance Junius – Youth & Intermediate Assistant Coach
Terrance Started late coaching with the youth last year to help with his daughter. He loved it so, that he has returned this year to help the Youth group. He will be specializing in cool down.
.
---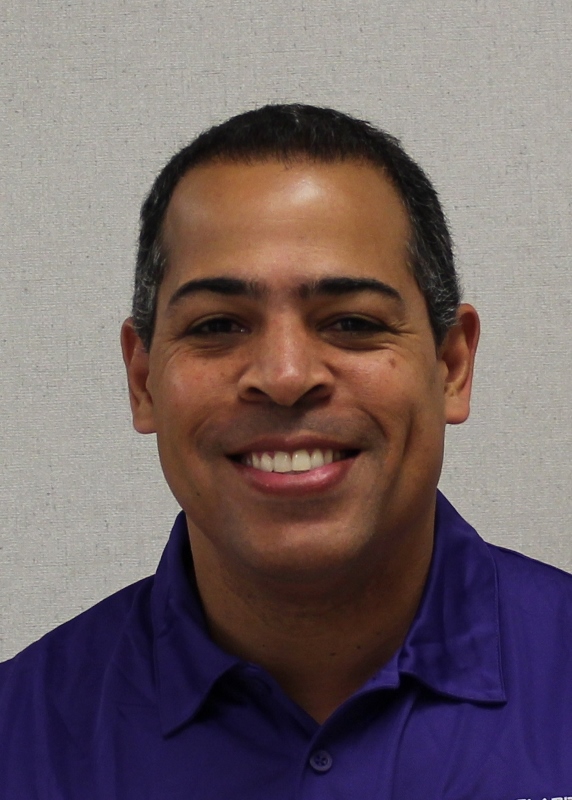 Chris Schauble – Midget Co-Head Coach
Chris Schauble is Head Coach for the Storm Midget age group. He has been the Midget Head Coach last year and was the Bantam Head Coach for the 2 years before. His coaching mottos are "Your child will have fun and reach his or her potential" and "We break records"!  Don't be surprised if you hear the second motto a lot.
Chris grew up with competitive sports  and competed in the AAU Junior Olympics as a sprinter. As an adult, he found a love for distance sports and earned the title of three-time Ironman having completed the 140.6 mile competitions in Arizona, New York, and the Ironman World Championships in Kona Hawaii.
Chris is a certified USATF Level 1 coach.  He's also a graduate of multiple LA84 coaching clinics…  Specializing in sprint events. He also credits mentor Charles Clinton (USATF Coach for Junior Elite Athletics) for his continued growth as a coach.
If Chris Schauble looks a bit familiar, it's no surprise. When he's not coaching with Storm, he's anchoring the KTLA 5 Morning News from 4-7am.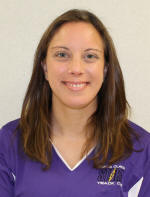 Danielle Marsh – Midget Co-Head Coach
Danielle Marsh is a third year coach for Storm and is a certified USATF Level 1 coach. In addition to coaching for Storm Track & Field she is also a coach for Storm Cross Country and for Students Off and Running (SOAR). Danielle grew up in Michigan and attended the University of Michigan, where she studied aerospace engineering and also performed in the Michigan Marching Band for four years. Danielle enjoys running with kids and is an avid runner herself, having completed fourteen marathons and many other races since taking up distance running while in college. She works as an aerospace engineer, and when she is not working or coaching she enjoys spending time with her husband and dog, running, swimming, and playing the piano.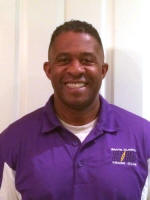 Marvin Perkins – Midget Assistant Coach
Assisting the Youth and Intermediate age group, Coach Marvin Perkins is returning for his fourth year as a Storm Coach, having worked last year with the Gremlin, Bantam and Midget age group.
A former New Yorker and athlete in swimming, diving, football and basketball, Coach Marvin starting running track as a high school sophomore only to increase his speed for football. He competed in the sprint events of 100, 200 and 4×100 relay and his high school team went undefeated for all three years of his time on the team.
In his spare time, Marvin runs a national and international outreach program and lectures throughout the country and globally relative to his outreach efforts. Coach Marvin enjoys time with his wife, son and his two daughters, both of which are returning for their second year on Storm. He works as regional sales director for IBM and is excited for another incredible track season.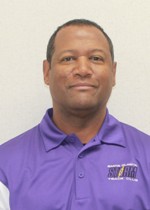 Joe Toliver – Midget Assistant Coach
Joe is a first year coach for the Storm, assisting coach Schauble and coach Marsh. He has two daughters that previously competed in track and field with the SCV Warriors, but are returning to the Storm for their second year. Their first love is soccer, so they run track to sharpen their speed and endurance.
High school All American, Track and Field (Long Jump and Sprints)
Track & Field LA84 Certified
Head Long Jump coach for SCV Warriors – 2015
AYSO 678 Soccer coach – 2012, 2013, and 2015
He enjoys working with youth athletes to help develop them to their highest potential, in a fun and supportive, yet competitive environment.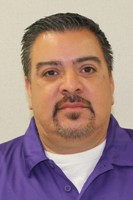 Issac Garcia – Blocks & Sprints / Midget Assistant Coach
Issac is starting his second year coaching with storm working with the midget age group and coaching blocks.
Past coaching experience:
Castaic Cougar youth football for 7 yrs
Santa Clarita youth football for 5 yrs
Warrior Track and Field 7yrs (1st time around)
Warrior Track and Field 3 yrs (2nd time around after a 5yr break)
Trainer for AYSO Challenge club soccer U11 girls
I love teaching youth responsibility and how to work as a team.
Manage Famous Footwear in Stevenson Ranch so stop on by and say hi!
Marcel Gordon – Midget Assistant Coach
Marcel is starting his second year coaching with the midget age group.
---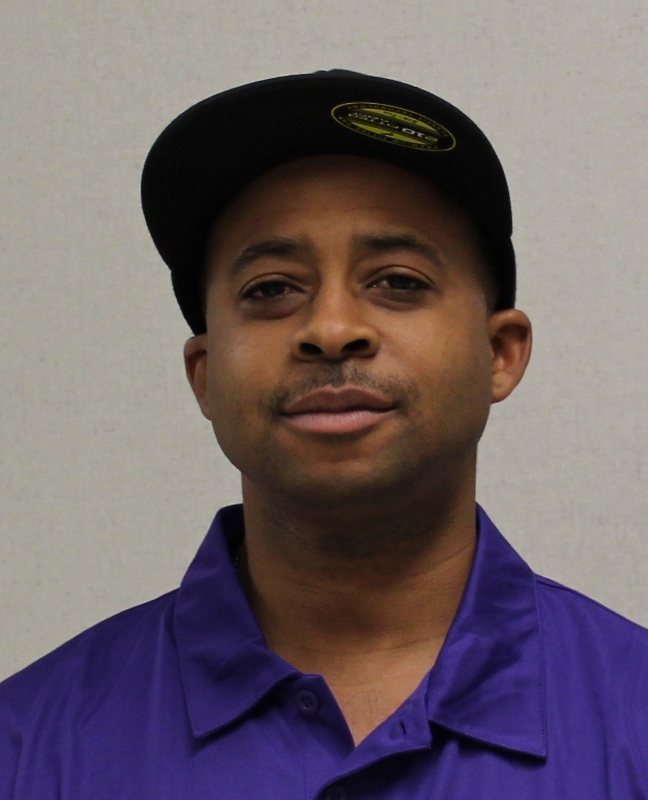 Russell Shields – Bantam Head Coach – EMT
Russell is taking on the head coaching for the bantam age group this year. He has just completed his USATF level 1 coaching credential and has been preparing all year long to lead this years bantams. He has been competing in sports since he was "knee high to a grasshopper". He credits all of his coaches/mentors in particular Coach Glenn, for not only teaching the fundamentals of sports but also how hard work, integrity, discipline, and perseverance can help you overcome any adversity. Russell graduated from "The" Westchester High School in Los Angeles, CA at 16 years old, where he competed in Baseball, basketball, and football (Go Comets)! Russell attended and graduated from the University of California, Riverside at 20 years old where he earned a BA in Sociology. He then became a high school teacher/mentor to at risk youth at a continuation school. Currently, Russell is a 11 year Fireman/EMT in the Los Angeles City Fire Department where he has founded a tutoring/mentoring program in the Baldwin Hills/Crenshaw community near his fire station.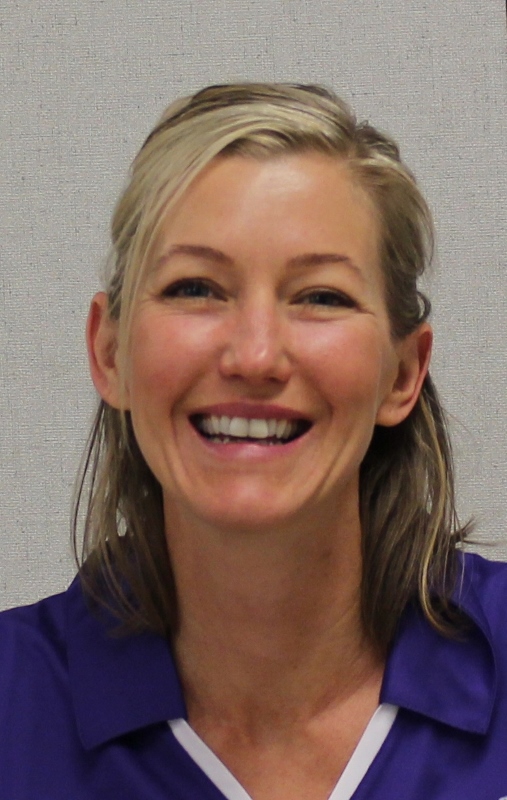 Alicia Stella – Bantam Assistant Coach
Alicia is a second year coach for Storm. She coached with the Gremlins last year. She has 2 athletes in the program and brings patients and expertise to our team.
.
.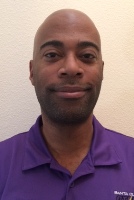 Will Humphries – Bantam Assistant Coach
Will Humphries hails from Indianapolis where he was a 2-time Conference Champion, City Champion, and state finalist in the 400m and 800m runs. He was the Indiana state runner-up in the 400m dash as a high school senior. Will accepted an athletic scholarship to Jackson State University, and was a member of the cross-country team and the track & field team where he competed in the 400m, 800m, 1600m relay. Following his strong desire to work in the entertainment industry, Will transferred to California State University at Northridge where he earned his Bachelor of Arts in Cinema and Television Arts. He later earned his MBA at the University of La Verne. This will be Will's sixth season as an assistant coach.
Will enjoys spending his downtime with his wife and two daughters, and pursuing his creative endeavors.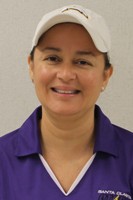 Jacky Parada – Bantam Assistant Coach
Jacky is starting her third year coaching for Storm, her two oldest children have grown up in the Track & Field lifestyle, now her youngest love it too. She loves to volunteer for what ever sport they are in. And is ready to tackle a new season for Storm Track Club.
.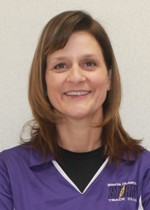 Jeannine Giem – Bantam Long Jump Assistant
Jeannine is starting her second year coaching in the Bantam age group, and will specialize in Long Jump.  Jeannine grew up playing team sports such as volleyball, basketball, softball, swimming, and track.  After college Jeannine started racing mountain bikes, and then road bikes, but now considers herself more of a runner, having completed two 50k ultra-marathons and soon the LA Marathon.  Jeannine and her husband's love of sports has translated to their kids Ally, a Storm Bantam track athlete and cross country runner, and son Weston, who is a multi-time State and National Champion cyclist.  Jeannine studied Environmental Analysis at UC Irvine and runs a local civil engineering firm with her business partner.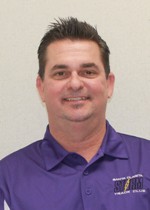 David Grande – Bantam Assistant Coach
First year coaching, I've enjoyed watching my two children compete in Storm the past two years with my son returning as a Bantam and my daughter moving on joining Valencia High School Track program. I competed in varsity Cross Country and Track at St. John Bosco High School in Bellflower CA. I also competed in national and international marathon waterski racing. I've always enjoyed the spirit of competition, setting goals and working hard to achieve your dreams. I'm very excited to join the Storm family in 2017.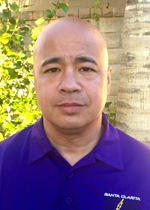 Chris Mangarin – Midget Assistant Coach / Long Jump Assistant Coach

This is Chris's first year coaching Storm Track. He have one girl in Bantams, one boy in Midgets and one boy in Youth. This is their first year in a track and field program and they love it already. He did long jump at Quartz Hill High School and ran 220 for a year. He also played football starting at the age of 9 all the way through high school. He have been coaching in Warrior Youth Football for the last 3 years and now am looking forward to helping these kids in any way he can.
.
---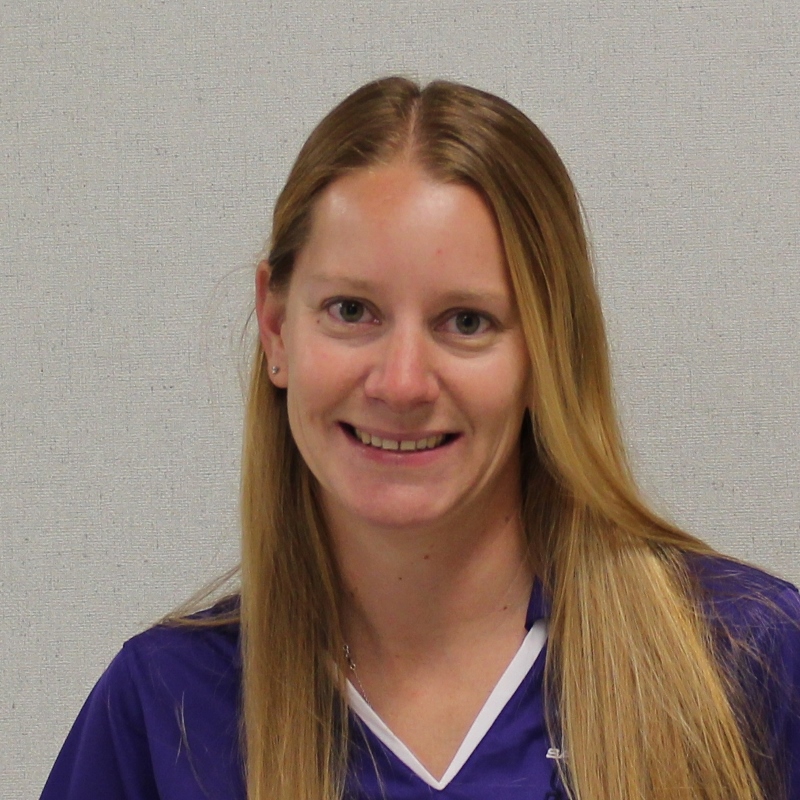 Beckie Warloe – Gremlins Head Coach

Beckie has been coaching track and field for the past 12 years, this is her fourth season with Storm. She will continue as  head coach for the Gremlins
Beckie started her running career at Placerita Jr High. She continued her career at Valencia High where she specialized in the 800, 400, and 4×4 relay. After graduating Valencia she ran at COC where she went to state in the 400. Beckie started coaching track 10 years ago with Special Olympics. In 2010 she went to National games with Special Olympics. She has also coached SOAR in the past for 4 years. In Beckies spare time she loves to run half marathons (NY marathon 2011, LA marathon 2010-2013, and CIM 2013), spend a day on the lake or in the desert riding her dirt bike. She all enjoys coaching SNAP (special needs athletes and peers) Ice Hockey and football.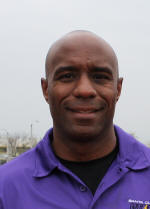 Akil Davis – Gremlin Assistant Coach
Akil ran track for UCLA track and field 1994-1998. He is an All American in 1996, his events were the 100 meter dash and the 4×100 meter relay Akil holds the AZ state high-school 100 meter record and state champion 1993. Akil is starting his third season with Storm Track. He really enjoys working with the upper gremlin 8 year old group.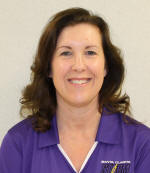 Susan Shepard – Gremlin Assistant Coach
This is Susan's third year coaching for STORM. She has two Gremlin girls in the program and is very excited for the season!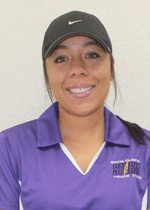 LaToya Wginton – Gremlin Assistant Coach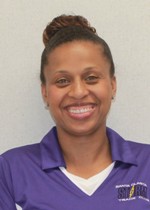 Kendra Williams – Gremlin Assistant Coach
Kendra ran track in high school and college and was a marathon coach with Team-in-Training. She was also a basketball coach for 5th and 6th graders. Kendra is excited to coach after missing sign-ups for two years.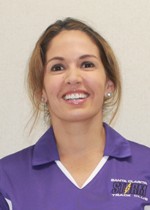 Jenny Striplin – Gremlin Assistant Coach
Coach Jenny is an active and busy mom of four kids and has previously participated in varsity soccer, cross country running, and varsity & college cheerleading, but hasn't ran track & field since her Jr. High days! More recently, however, she has competed in a number of functional fitness competitions, both individually and as part of a team. In addition to her West Ranch Freshman who plays football & baseball, she also has a Gremlin boy, Sub-Gremlin boy, and a little 4 year old daughter who can't wait to run for Storm next year! This is her first year coaching with Storm and she is very excited to work with the Gremlins!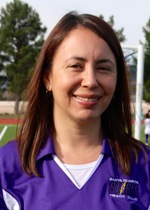 Gloria Martinez – Gremlin Assistant Coach
Gloria's children have been running with the conference for 6 yrs. Santa Clarita Storm has been a great experience for her children. She is excited to be part of a team who encourages children to do their best. Most importantly humility and respect.
---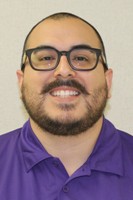 Mike Salgado – Sub- Gremlin Head Coach
First year coaching, Mike has truly enjoyed seeing his daughter  grow in her athletic journey, and Has found himself loving running. His son and daughter will be joining track as first timers. His daughter  has previously run cross country. Mike has three kids ages 6,5,1. Works in Valencia and loves volunteering In extra Curricular activities around town.
.
.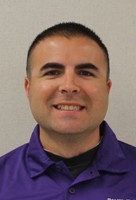 Roger Bertola – Sub-Gremlin Assistant Coach
This is Roger's second year coaching with Storm. He has 2 daughters and
a son running on the team this year.  He enjoys coaching his
children's sports teams and being involved.  Roger's love for running
began in high school where he ran track and cross country. Roger
enjoys cycling, running and swimming.  He is excited to be coaching
with Storm this year.
.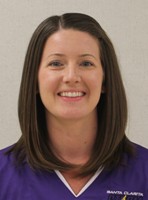 Alison Bertola – Sub-Gremlin Assistant Coach
This is Alison's second year coaching with Storm. She is a mom of 3 and
an elementary school teacher.  Alison ran track and cross country in
high school to condition for basketball season.  She enjoys running,
cycling, and staying active with her family.  Alison is excited to be
coaching with Storm this year.
.
.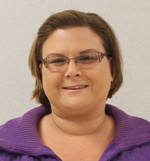 Jennifer Hudson – Sub-Gremlin Assistant Coach
This is Jennifer's first year coaching for STORM. Her oldest son is a Midget and has been running with STORM for the past 4 years. Her youngest will be starting this season as a Gremlin.
.
Jennie Hinrichs – Sub-Gremlin Assistant Coach
Jennie has two gremlins in the program and a youth and is excited to start her first year of coaching.
Walther Lazo – Sub-Gremlin Assistant Coach
Walther is a loving, caring and dedicated father of four.  His children, ages 12, 10, 6 and 4, play soccer all year round; this is their first year running with STORM.  Walther was a soccer coach with AYSO Saugus Region 46 for two years. He coached his two eldest daughters' teams when they were 7 and 6 years old.  Walther is happy to work with the Sub-Gremlins, which is the age group his two youngest children are part of.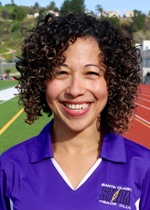 Dania Lazo – Sub-Gremlin Assistant Coach
This is Dania's first year coaching with Santa Clarita Track Club, STORM. Her four children, ages 12, 10, 6 and 4, play soccer; this is their first year running with STORM. Dania is a runner; she has ran Los Angeles Half Marathon for the "Train 4 Autism" organization since 2014. Dania looks forward to working with the Sub-Gremlins and hopes her children enjoy running as much as she does.
---
Specialty Coaches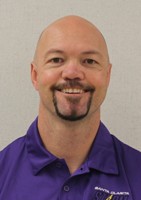 Brad Bohne – Head High Jump Coach / Gremlins
Brad is a true track and field enthusiast, who has been around it as long as he can remember. He grew up in Utah where he was a high school state champion in the 100m, 200m, and pole vault. After high school, he spent his college career as a multi event athlete, competing in the Decathlon, and specializing in the 400m.
For the past several years after work, Brad coached high school track and field in Salt Lake City, but a recent job opportunity relocated him and his family to Valencia.
Brad works as a construction superintendent, and is the lucky husband to his wife Kristi, and father of 2 little boys, and a little girl.
When he's not busy at work, he enjoys spending time with his family by going to the beach, or playing at the park.
He's excited to be involved with the Run Storm organization and cant wait to get on the track with the kids and have some fun.
.
---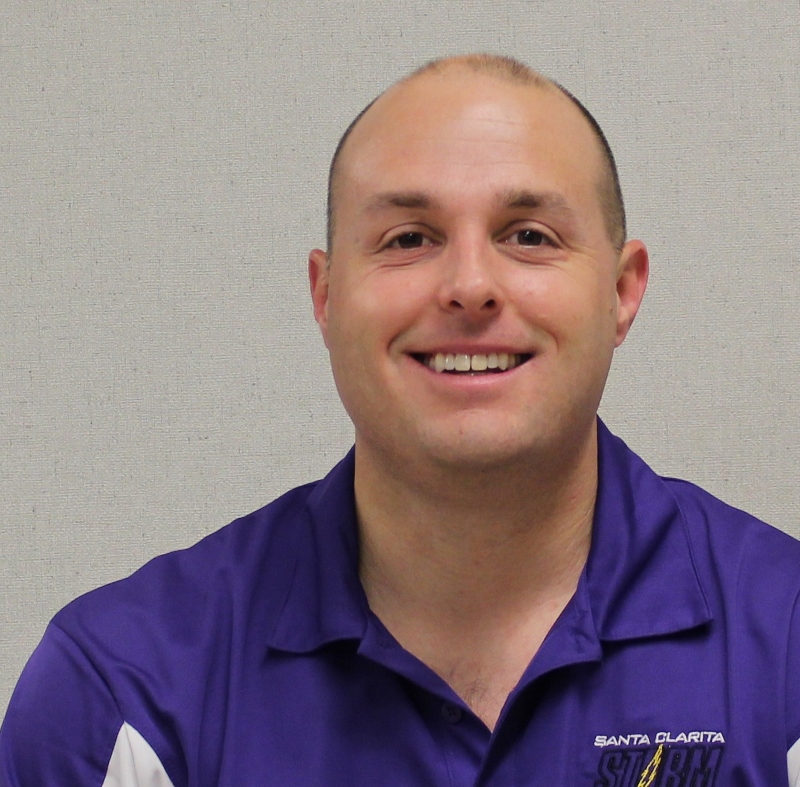 Matt Jordan – Head Shot Put Coach
Coach Matt is excited to be returning for his forth season with Storm Track Club as shot put coach.
Coach Matt began throwing the shot put as a youth in Orange County. Both his grandfather and father competed in the throwing events and helped him develop strength and technique for the shot. Coach Matt attended Dana Hills High School and threw both the shot and discus. He broke the school record in the shot put his junior year and competed in the California State meet his senior year. Coach Matt earned an athletic scholarship to California State University Northridge where he competed in the shot put, discus, and hammer.
While at Northridge, Coach Matt had the opportunity to coach two elite high school athletes in the throwing events and helped them achieve personal records. Coaching for Storm last year inspired him to train and compete again at the Master's Level and he finished the 2013 season with the top shot put mark in the state for his age group.
Coach Matt and his wife are the proud parents of two boys who will compete at the Midget and Bantam level this season. He works full time as the Corporate Security Director of a Pasadena based engineering firm and teaches part time at the University of Phoenix. When not coaching or working, Coach Matt and his family enjoy spending time with friends and family, traveling, and visiting various Southern California attractions – especially Disneyland!.
---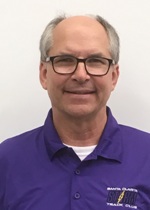 Corey Fredrickson – Head Long Jump
Corey is returning to the STORM Track Club for his 7th season after a year hiatus from coaching. He has moved through the age group levels training along with his daughter Kelley. He began coaching with the Bantam age group and ended up helping out in the Intermediate Division.
This will be his third year assisting in the Long Jump Field Event with Coach Rodney Hawkins.
He also ran Cross Country and Track for Burbank High School and was a member of the 1973 JV CIF Foothill League Championship Cross Country Team.
This year, Corey is also Volunteering as Assistant Sprints and Relay Coach at Valencia High School.
His daughter Kelley is in her 2nd year running Track at Valencia High along with many of her former STORM teammates.
This year, Corey will be running in many 5K events including the LA Marathon 5K and the Mardi-Gras Madness 5K. He will also be warming up for the Wings for Life World Run on May 7th this year.
He's looking forward in helping your child have fun and reach their goals this Track Season. Let's Go STORM!
.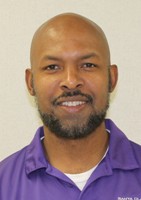 Anthony Joachim – Assistant Long Jump Coach
Anthony has been coaching with Storm for many years, he started at a hurdle coach and is now moving over.
.
.
.
..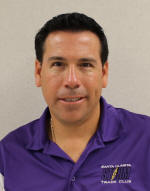 Rodney Hawkins – Midget Long Jump Assistant / Midgets
Coach Hawkins returns for his fourth season with Storm and third year as an assistant coach for long jump.  In between duties he also likes to help as an assistance coach to the Bantams.  Coach Hawkins passion for Track and Field started during his sophomore year in high school.  His events were the 200 m and long jump.  Now he enjoys watching his two sons grow and improve as all around athletes.  Coaching sports has always been a big part of his life after becoming a father.  During the STORM off season, he coaches AYSO soccer teams for both his sons.
When not coaching, he enjoys playing golf or snowboarding with family and friends..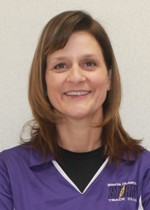 Jeannine Giem – Bantam Long Jump Assistant
Jeannine has not formal coaching experience, but it life time athlete in several sports.
.
.
.
..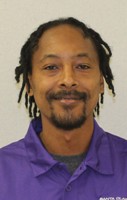 Ralph Yoakum – Gremlin Long Jump Assistant 
Ralph Yoakum is  36 year old San Fernando native. I grew up playing various sports up until junior college. I ran track my whole childhood and lettered in high school. I was a 1997 city finalist in the long jump and a 1993 junior olympics semi finalist.
.
.
---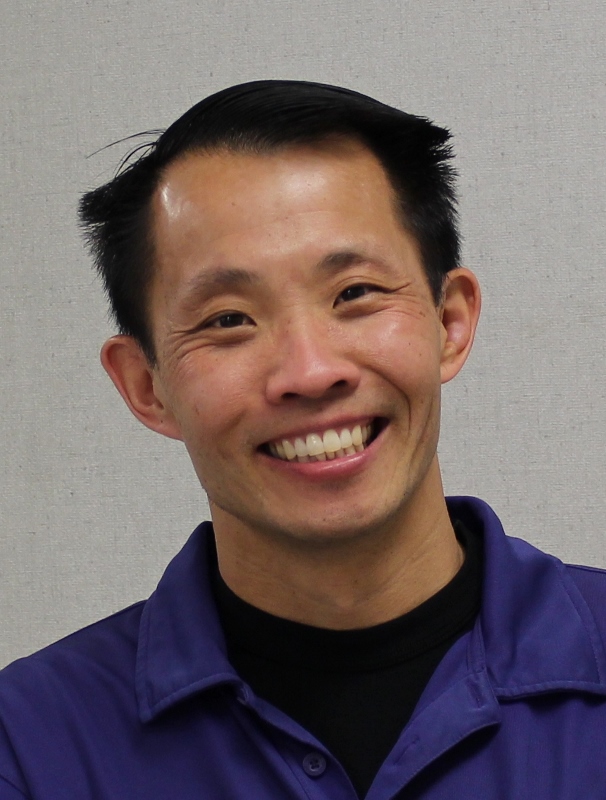 Wayne Lee  – Co-Head Hurdles
Wayne is in his sixth year of coaching for Storm. In addition to coaching hurdles for the Storm track team, he also coaches Storm cross country, the SOAR marathon training team for high school students, and helps with hurdles at West Ranch. Distance running is an integral part of family life for Wayne and his two kids who grew up with the Storm program. In high school, he competed in both the 120 and 330 yd hurdle events because in those days, there were no metric tracks.
.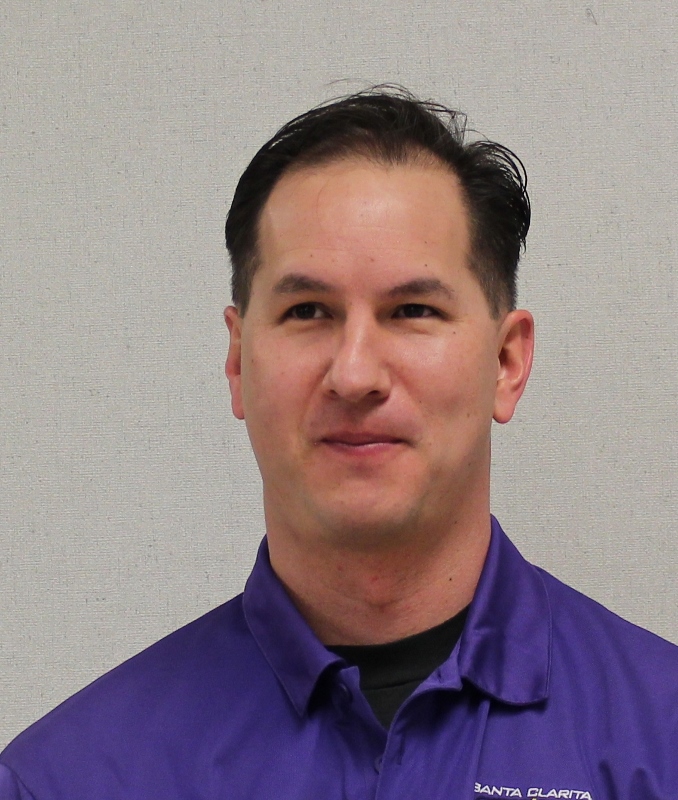 John Lin – Co-Head Hurdles
This is John's fifth season coaching hurdles. John has been a resident of Santa Clarita since 1986. John and his wife Lisa met at Saugus High School. They have two children Blake and Natalie who have been participating in the Storm track club for the past 6 years.
As a High School sophomore, John was introduced to hurdles and quickly grew to love and respect the challenging event. John left Saugus High School as league champion in both the 110 High Hurdles and 330 Intermediate Hurdles. John continued his love of Track & Field in College Men's 110m Hurdles and 400m Hurdles.
---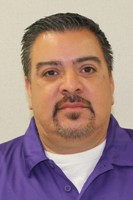 Issac Garcia – Blocks & Sprints / Midget Assistant Coach
 Coached:
Castaic Cougar youth football for 7 yrs
Santa Clarita youth football for 5 yrs
Warrior Track and Field 7yrs (1st time around)
Warrior Track and Field 3 yrs (2nd time around after a 5yr break)
Trainer for AYSO Challenge club soccer U11 girls
I love teaching youth responsibility and how to work as a team.
Manage Famous Footwear in Stevenson Ranch so stop on by and say hi!
---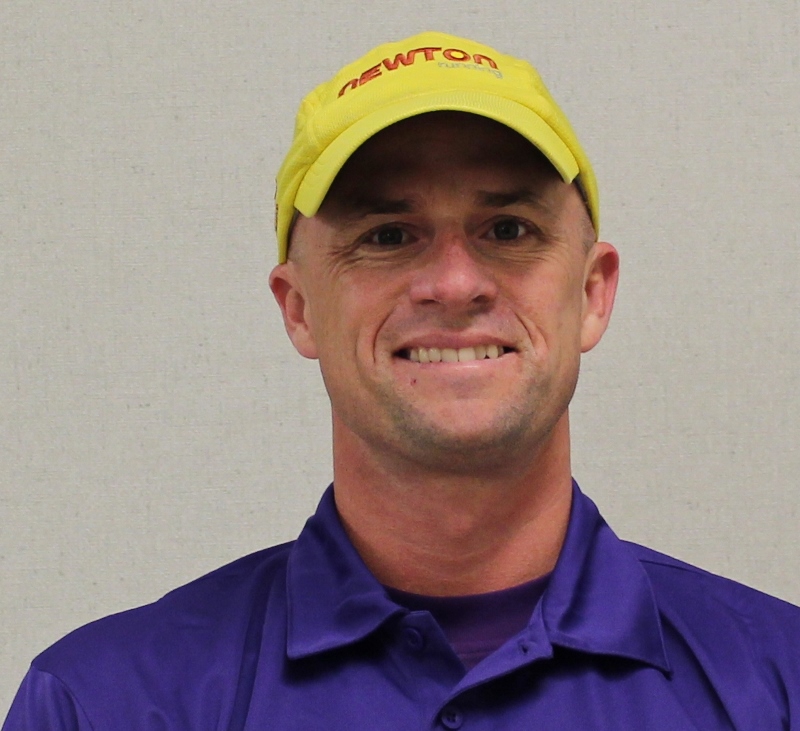 Jeremy Stepan – Head Distance
Responsible for the distance program, both track and cross-country. He is starting his 9th track season and has been privileged to work with 100's of amazing athletes. Many of the top high school athletes in our valley got their start with Storm.
Whether you are aiming for a college scholarship or just to be in shape, coach Jeremy's pride is in helping you reach your goals and potential. Through words of encouragement and killer workouts his goal is to make you a runner for life.
With a group of over 6 incredible assistant coaches, we have continued to achieve excellence in youth distance running both at the local and national USATF levels.
Outside Storm he coaches.., and enjoys training for all disciplines of triathlon, and most importantly relaxing with his amazingly supportive wife of 17 years, and 4 kids!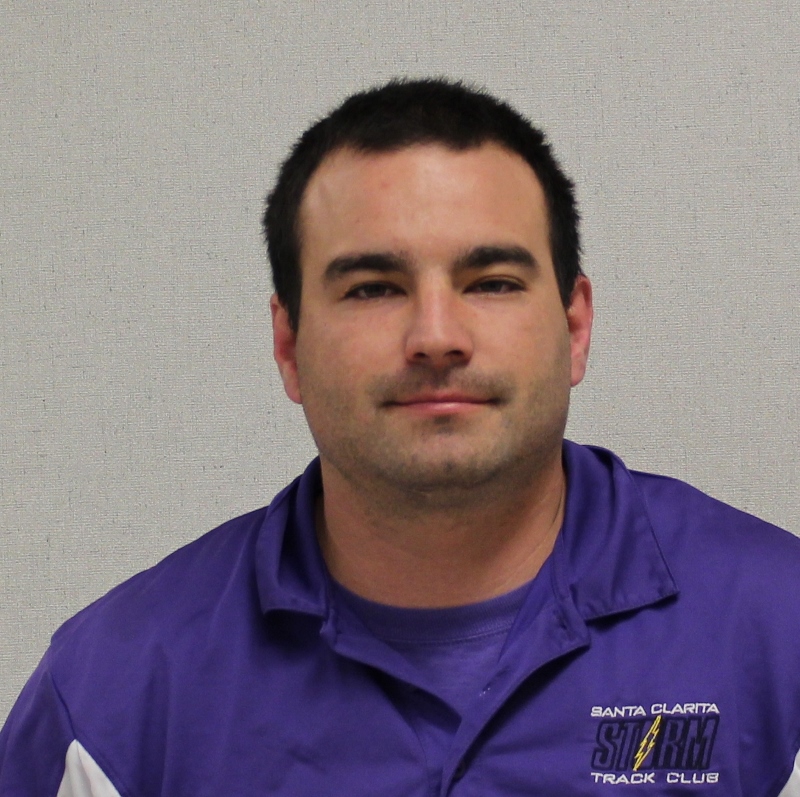 Mark Bingham – Bantam Distance Coach
Mark begins his fifth year assisting with the distance program. Mark began running at the age of 4, and his son followed in his steps by also starting at the age of 4. Mark's cross country team at Canyon high school won state CIF championships in 2001. Mark competed in Track & Field, Cross Country, Track bike racing at the Encino velodrome, he competed in many youth triathlons. His PR in the 1600 was 4:32, 800 was 2:01.  Mark is very excited to be helping the bantams distance runners.
Mark now enjoys spending time with his son, fishing and  and dirt bike riding.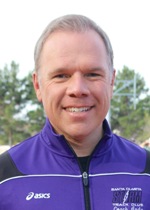 Andy Gallardo – Distance
Andy Gallardo is in his fifth year as a track and cross country coach for Storm.
He has helped coach gremlin, bantam and midget and now youth age groups and works mainly with the distance coaches.
In his full time job, Andy is the Director of Fitness for Kaiser Permanente Southern California. His responsibilities include designing worksite initiatives to encourage employees and physicians to lead a healthier lifestyle.
Coach Gallardo holds a BA in Political Science from Arizona State University and an MA in Public Administration from the University of Southern California. He is certified by National Academy of Sports Medicine in personal training, sports nutrition and weight loss. He is also an associate member of the American College of Sports Medicine. His specialties include group fitness instruction, injury prevention, weight loss and sports training for youth and adults.
He lives in Valencia, CA with his wife Laura and their sons, Blake 14 and Brady 12.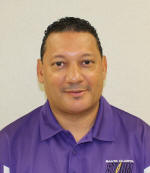 Mo Washington – Distance
Started with the cross country team in 2011 training with his two daughters Peyton & Hayden. His love and interest for the sport grew as they have. Now he coaches with the distance group in the fall and Midgets during track season. He is a firm believer that you get out what you put in.
.
.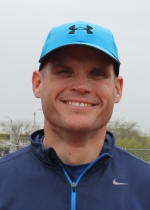 Michael Fredricks – Distance
This is Mike's 8th year working with our program. He also serves on the board of directors.
.
.
.
.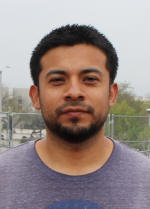 Jerry Flores – Distance
This is Jerry's third year helping with our Distance program.
.
.
.
.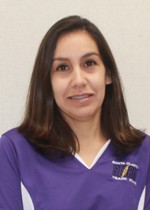 Monica Alten – Distance
This is my first year coaching for Storm track club.  I am a mother of two sons, Owen and Eli, whom run with the distance program.
I grew up around the sport of running, competed at both the high school level and college.  I am looking forward to working with the kids.
.
.
.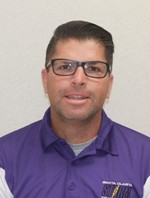 Sean Giacone – Distance
This is Sean's first year coaching with Storm Track & Field. He has two daughters that have been with Storm's Cross Country team for 3 years and this is their 2nd year with Track & Field. His daughters and all the other young athletes inspired him to start running over a year ago and he even accomplished his first half marathon this past November 2016. Sean is excited to begin a new position as a Storm coach and he looks forward to helping and watching the kids progress over the season.
.
.
Jon Wadkins – Distance
Jon grew up in Southern Idaho and ran track in High School running the 110m and 300m hurdles, and 1st leg of the mile relay. Jon ran the 400m at The Simplot Games the nation's premier indoor track and field event for High School aged athletes.
Jon started assisting Storm in Cross Country and the distance Team in Track when his son
(Rylan) started running Cross Country in 2012 as a bantam and is now in high school. You will find Jon running with the distance runners, especially on track night where he enjoys the speed work.
.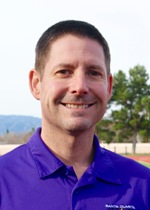 Brently Young – Distance
Coach Brently started with the Storm family in 2014 when his son joined the distance team as a Bantam.  He began helping in a more official way during the 2016 cross-country season.  Coach Brently played competitive soccer through his mid 20's. The highlight being a club team 2nd place finish in state his U-18 year.  Coach Brently has been competing in Olympic distance triathlon since 2009, and finds his motivation by watching the effort of Storm runners.  He has coached 5 years of AYSO soccer before joining the Storm family and is Safe Haven trained.