Description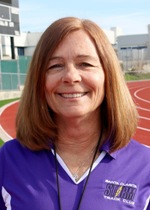 Elaine Bingham – Track & Field Head Coach
Coach Bingham is entering her ninth year of coaching with Storm. She has been coaching youth track and field for over 32 years. She started coaching her 4 kids in another program and was instrumental in creating the Canyon Country team in 1994. She has served in the Valley Youth Conference as League President and Commissioner of Track and Field. She has also coached at the high school level at Canyon High School. Coach Bingham has attended countless coaching clinics to continue to learn and teach the sport. She is starting her second generation coaching with her grandkids & children of athletes she coached as youth.
Coach Bingham has completed 19 marathon and countless other races, she began running in 1994 a gift that was giving to her by her children's interest in Track & Cross Country. As a child Elaine had Polio and was told she would never run. She is very thankful they were wrong.
When she is not coaching Track she spends most of her time with her family, 5 adult children, and 14 grand children. She enjoys Duke Basketball! and riding on the back of her Harley Davidson Motorcycle with her husband of 40 years Alan. They have toured most of the southwest.
Coaching Track & Field is her passion and she enjoys the success of every member on the Storm Team.