Description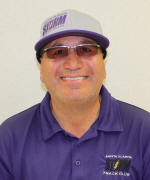 Mark Cruz – Director, Track & Field
Mark is beginning his 9th year with Storm Track Club as director and coach. He enjoys introducing kids to the fundamentals of Track & Field with a philosophy of strong work ethic, self discipline and goal setting. These skill sets are fun, competitive and social, while developing their self confidence and knowledge to the importance of a health and fitness program. His goal is that athletes apply this philosophy to all aspects of their everyday life, as well as develop a higher standard of achievement in other sports, academics and life.
During his college years, Mark was a member of The Santa Monica Track Club, well known for producing countless Olympic athletes and setting numerous World and National records. In his 10 years with SMTC, he competed in events from 1500 meters to Marathons.
Mark and his family truly enjoy being part of the Storm Track Club program. His wife Lillian is the team Candy Mom, son Cameron is now a high school storm alumni athlete and daughter Madison is a Youth athlete.